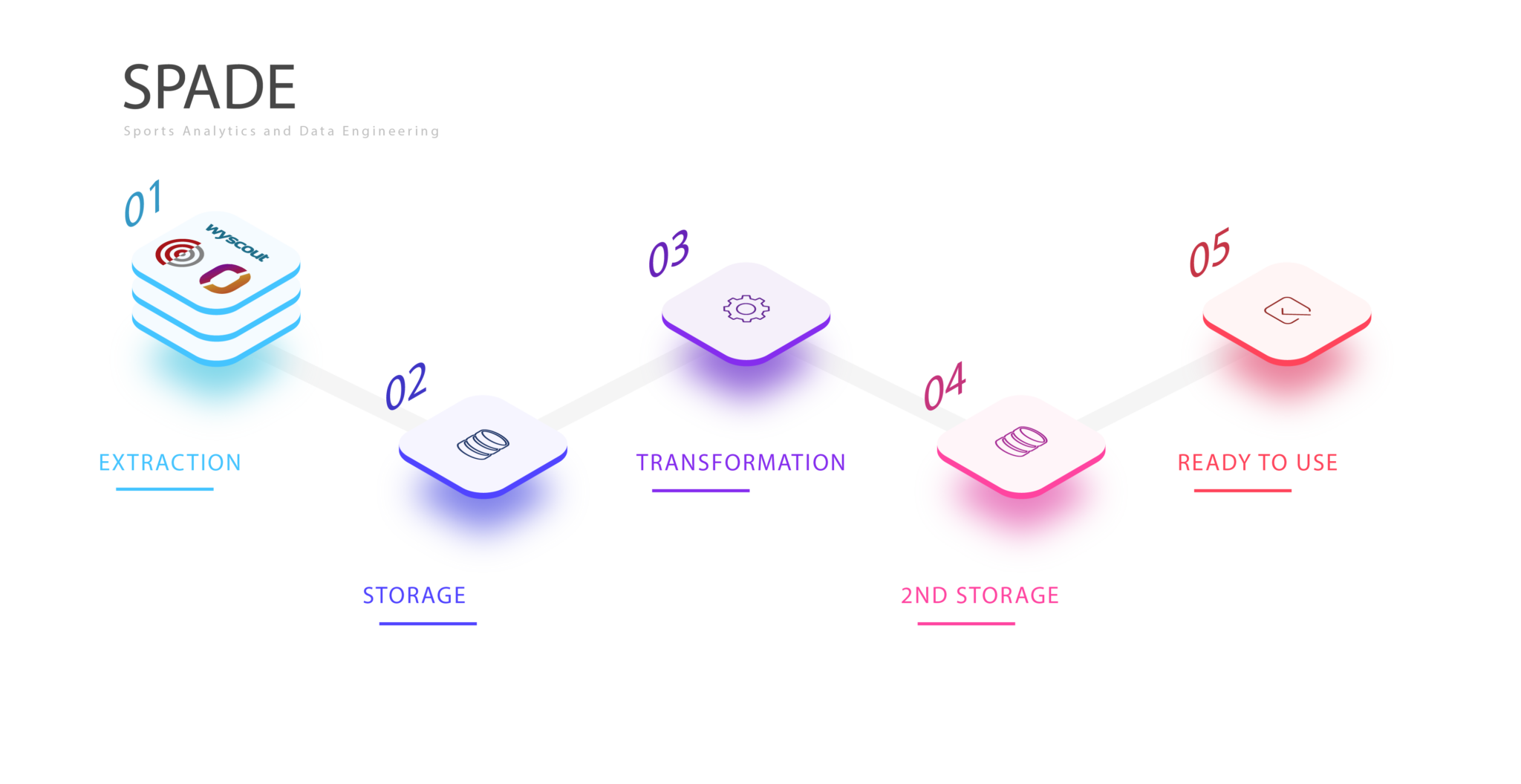 SPADE is your strategic partner in the world of football analytics, empowering clubs with the tools they need to thrive. Seamlessly connecting to leading football APIs such as StatsBomb, Opta, and Wyscout, SPADE streamlines the collection, integration, and storage of critical match data.
Services Tailored to Your Success:
Strategic Consulting:

We become an extension of your in-house team, providing expert advisory services that guide your data strategy. Whether it's refining tactics, optimizing player development, or spotting untapped opportunities, we're with you every step of the way.

End-to-End Support: From inception to implementation, SPADE is here to ensure your success. We assist in setting up your data ecosystem, providing hands-on training for your team, and offering ongoing support to guarantee smooth operations.
What Spade Offers:
Effortless Data Integration: SPADE effortlessly merges data from multiple sources, providing a unified and comprehensive view of player performance, match dynamics, and tactical insights.
Real-time Analytics: Harness the power of real-time data processing during matches to make informed decisions on-the-fly, giving your team a competitive edge.
Unified Insights: SPADE transforms raw data into actionable insights, enabling clubs to fine-tune strategies, optimize player performance, and drive success on the field.
Tailored Solutions: Our flexible platform adapts to your unique needs, allowing you to focus on what matters most – enhancing team performance and achieving your goals.
The Benefits for Your Club:
Extra Expertise: Benefit from our seasoned experts who bring specialized knowledge and experience to the table, enriching your decision-making processes.
Additional Capacity: Enhance your capabilities without expanding your in-house team. SPADE provides the workforce you need to set up your data infrastructure properly. This way you can focus on your expertise in analysis and draw meaningful conclusions from your football data.
Enhanced Decision-Making: Leverage SPADE's advanced analytics to make data-driven decisions that lead to better player development, more precise game strategies, and improved match outcomes.
Efficiency and Accuracy: Say goodbye to manual data aggregation and processing. SPADE automates data workflows, minimizing errors and maximizing efficiency.
Competitive Advantage: Gain an edge over rivals with timely insights, uncovering trends and opportunities that can give your club the upper hand.
Unlocking Potential: Unleash the full potential of your team by harnessing the power of data, empowering players and coaches to reach new heights.
Step onto the pitch of success with SPADE. Revolutionize your data management and elevate your club's performance to unprecedented levels. It's time to turn data into victory."